About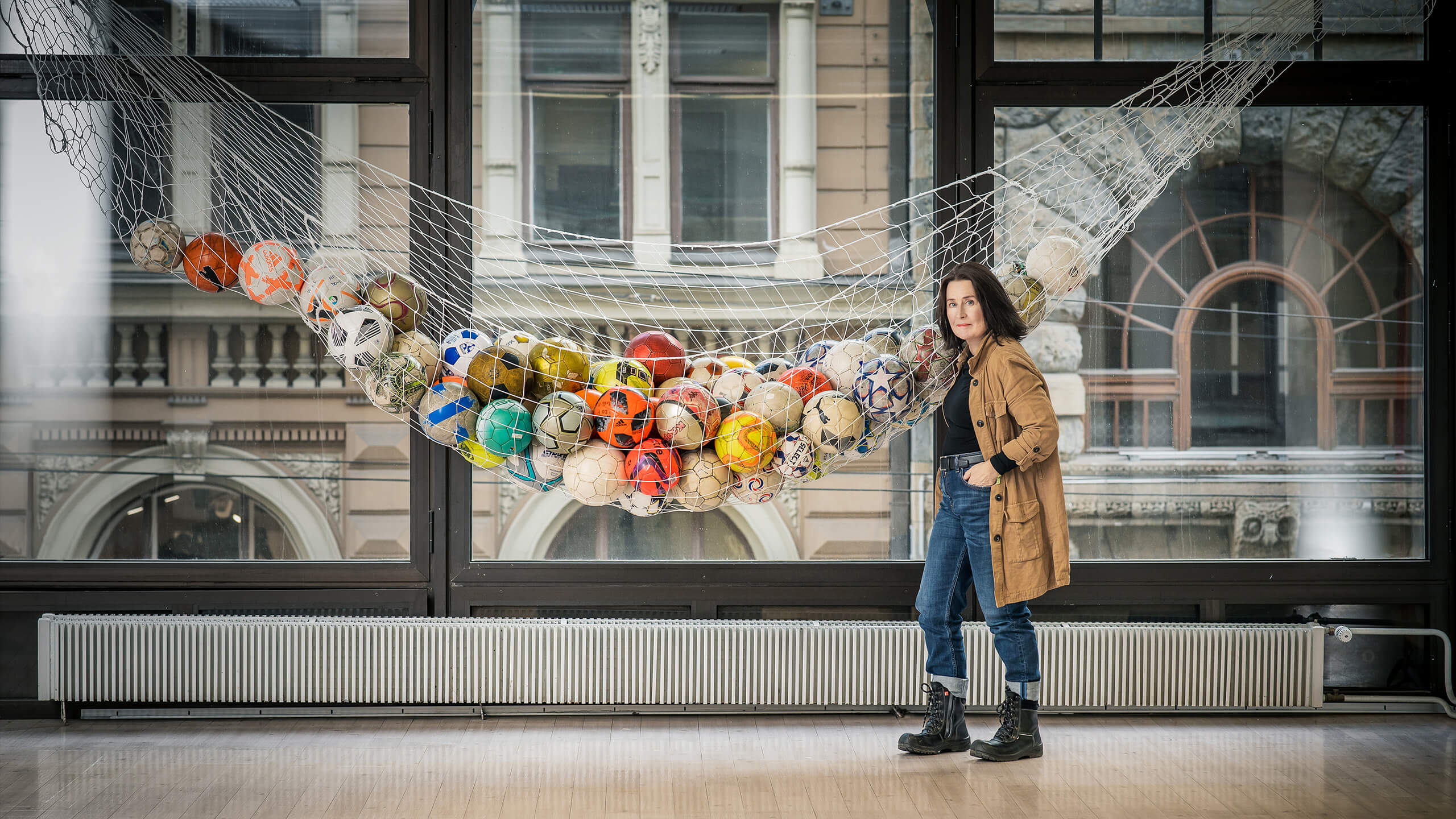 Sophia Ehrnrooth is a visual artist based in Helsinki, Finland.
Ehrnrooth's artistic practice addresses communal processes and issues pertaining to empathy, play as a reparative act.
In her performative installations in public spaces, she invites public participation through a guided personal process. Her media of expression are photography, video, ready-mades and painting. In her media art, she both witnesses and engages in a dialogue with her documentary subjects.
Ehrnrooth's next international project will be the third edition of Field of Dreams, a stadium-sized performative installation in public space to be staged in Montevideo, Uruguay in April 2023.
In addition to her work as an artist, Ehrnrooth is an award-winning producer. playartproductions.com
Ehrnrooth graduated from the Finnish Academy of Fine Arts in 1990.
Exhibitions and features
Solo exhibition at Instituto Iberoamericano de Finlandia, Madrid, December 2023
Poem to a Football Field, 2022
Short movie
A Musical Space, 2021
A performative improvisation
The Foundation of the Nordic School of Art, Finland
3 takes on football, 2021
Solo exhibition
Galleria Artista
The Foundation of the Nordic School of Art, Finland
Landscape of the Soul, 2021
Group exhibition
Glasshouse Helsinki
Helsinki, Finland
Dream of Championship, 2021
Visual arts publication
PARVS Publishing Ltd.
(Nominated for The Most Beautiful Book of the Year 2021)
Field of Dreams Helsinki
Installation
Helsinki, Finland
Room to Grow, 2021
Seminar
Taidepiste Event Series
Uni Arts Helsinki, Finland
900 Footballs, 2020
Short movie
Name Your Champions, Name Your Dreams, 2020
Short movie
Field of Dreams Rome, 2019
Installation
MAAM Museum of the Other and Elsewhere
Rome, Italy
Dream of Championship, 2019
Solo exhibition and workshops
MACRO Asilo, Museum of Contemporary Art of Rome, Italy
879 Heroes by Heart, 2018
Video installation
Shimadai Gallery
Kyoto, Japan
PechaKucha Night, 2018
Oslo, Norway
Dream of Championship, 2018
Solo exhibition
Art Hall Porvoo, Finland
PechaKucha Night, 2018
Helsinki Design Week
Helsinki, Finland
Finnish artists in Rome, 2018
Group exhibition
Spazio Cerere
Rome, Italy
Dream of Championship, 2018
Short movie
Docpoint Helsinki Documentary Film Festival, Finland
(Critic's Honorary Award 2018)
Dream of Championship, 2017
Short movie
Rome Independent Film Festival
Casa del Cinema di Villa Borghese
Rome, Italy
Dream of Championship, 2016
Solo exhibition
Historical Museum of Bosnia and Herzegovina
Sarajevo, Bosnia and Herzegovina
Dream of Championship, 2015
Solo exhibition
Lasipalatsi Exhibition Space
Helsinki, Finland